You are here
Bonds analysis: US T-Note long?
The U.S. T-Note future has been oscillating in a trading channel (125-133) since July 2013. At the moment the T-Note future finds itself at the bottom of the trading channel. The central support line of the channel lies around the 125,30 level.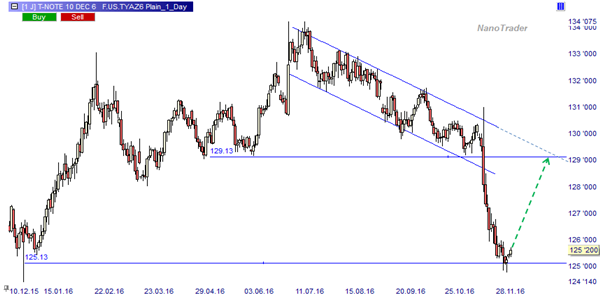 The U.S. presidential elections have triggered a significant sell wave. A technical reverse reaction thus becomes likely. This reaction could be triggered once the T-Note closes above the 125,13 level. This could be considered a buy opportunity in November 2016.
PARAMETERS
Buy at the market price if the T-Note closes above 125,13
Stop loss: 124,00
Target: 129,13
Disclaimer
This analysis is published solely for educational and informational purposes and must not be read as advice or a suggestion to buy or sell the financial instruments or markets analysed. If you decide to do so, you do so solely on your own initiative and risk. This analysis is not guaranteed to be free of errors. It will not be updated after publication.
Download a free real-time demo of the NanoTrader Full trading platform used in this article