You are here
DAX (German market index) analysis: time to go long?
The DAX 30 market index is at an all time high. Nothing seems able to stop this high-speed train. The question needs to be  asked to what degree this is due to economic fundamentals and to what degree this is due to the European Central Bank's negative interest rate policy. Politicians believe that negative interest rates will motivate consumers to spend. Consumers will only spend if they feel good, which they don't. Hence, to avoid negative interest rates, these consumers don't consume, but invest in real estate (take a look at the real estate prices) and stocks in order to obtain rents and capital gains from the former and dividends and capital gains from the latter.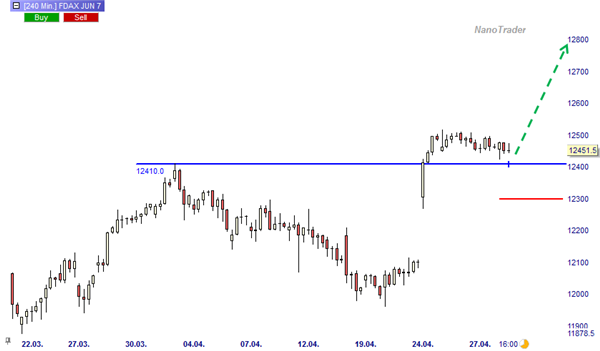 The previous record high, 12.429, which the DAX 30 reached in March 2015 was taken out by a gap up to a new high of 12.518 points. The DAX digested this new high fairly easily and did not give up a lot of its new won ground. Technically speaking the next level could be 12.800.
PARAMETERS
Buy limit at 12.410.
Stop loss: 12.300.
Target: 12.800
Disclaimer
This analysis is published solely for educational and informational purposes and must not be read as advice or a suggestion to buy or sell the financial instruments or markets analysed. If you decide to do so, you do so solely on your own initiative and risk. This analysis is not guaranteed to be free of errors. It will not be updated after publication.
Download a free real-time demo of the NanoTrader Full trading platform used in this article