You are here
EUR/USD analysis: a buy opportunity?
The EUR/USD forex pair has been looking for a bottom within the 1,1600 and 1,0600 trading range since its sell-off in 2014. Only recently did the EUR/USD break upwards out of its range.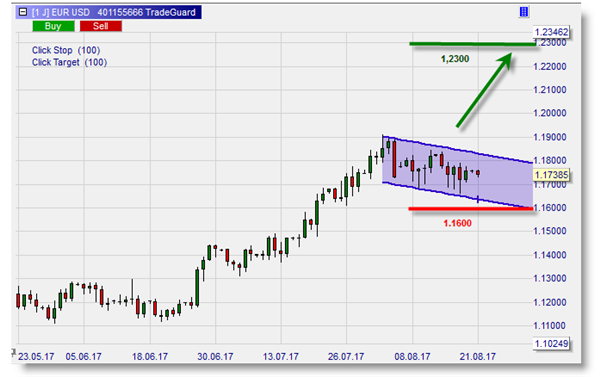 The range break-out occured on 21 July and lead to a rally which reached a (temporary) high of 1,1909 on 2 August. Since that day the EUR/USD has been consolidating in a typical flag pattern. If the price closes above the edge of the flag pattern, it may be an opportunity to buy the EUR/USD.
PARAMETERS
Buy at market if the market closes above the flag pattern.
Stop loss: 1,16000
Target: 1,23000
Disclaimer
This analysis is published solely for educational and informational purposes and must not be read as advice or a suggestion to buy or sell the financial instruments or markets analysed. If you decide to do so, you do so solely on your own initiative and risk. This analysis is not guaranteed to be free of errors. It will not be updated after publication.
Download a free real-time demo of the NanoTrader Full trading platform used in this article