You are here
EUR/USD analysis: is the road to parity open?
From a technical analysis perspective the EUR/USD is currently under constant pressure. If in 2014 one could still get 1,3600 USD for 1 EUR, the tide has now turned.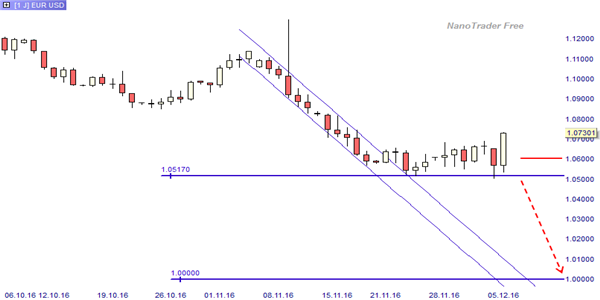 During the year the EUR/USD forex pair found support around the 1,0900 USD level. The result of the U.S. presidential elections has, however, wiped this support away. Now, on 3 December 2016, the Euro reached the same low it reached exactly one year ago, 1,0517 USD. If this support breaks, the road to parity is open. This could be considered a short sell opportunity in December 2016.
PARAMETERS
Short sell at the market price if the day candle closes below 1,0517.
Stop loss: 1,0600
Target: 1,0000
Disclaimer
This analysis is published solely for educational and informational purposes and must not be read as advice or a suggestion to buy or sell the financial instruments or markets analysed. If you decide to do so, you do so solely on your own initiative and risk. This analysis is not guaranteed to be free of errors. It will not be updated after publication.
Download a free real-time demo of the NanoTrader Full trading platform used in this article