You are here
Forex analysis: USD/JPY upward trend starting?
September 2016. After reaching a high of 125 in 2015 the USD/JPY moved lower and dropped to 100 in August. The forex pair seems to have found support at this level and appears to be positively oriented.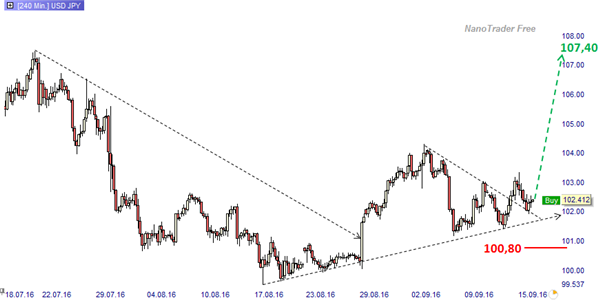 It could be surmised that the negative trend has come to an end and that the USD/JPY will move upwards again to levels reached in July.
A long position would reflect this possibility.
Parameters
Buy long between 102,00 and 102,50
Stop loss level 100,80
Target 107,40
Disclaimer
This analysis is published solely for educational and informational purposes and must not be read as advice or a suggestion to buy or sell the financial instruments or markets analysed. If you decide to do so, you do so solely on your own initiative and risk. This analysis is not guaranteed to be free of errors. It will not be updated after publication.
Download a free real-time demo of the NanoTrader Full trading platform used in this article