You are here
Gold analysis: running out of steam?
The gold price appears incapable of taking off. Although the gold future succeeded in rising above a long term resistance level, the price quickly descended again below this level in the last few weeks.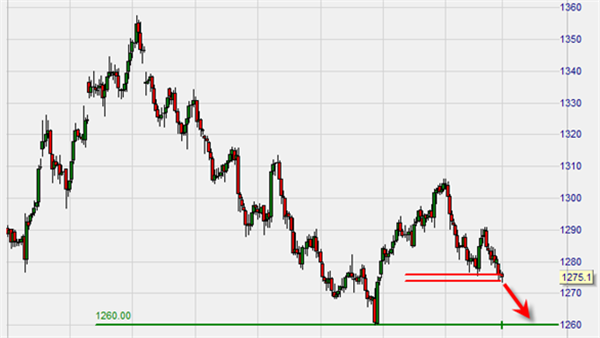 The impression in October 2017 is that traders who positioned themselves for a surge in the gold price are becoming disappointed and are throwing in the towel. This behaviour increases the pressure on the gold price.
PARAMETERS
Short sell at market between USD 1 276 and USD 1 274.
Stop loss: USD 1 280.
Target: USD 1 260.
Disclaimer
This analysis is published solely for educational and informational purposes and must not be read as advice or a suggestion to buy or sell the financial instruments or markets analysed. If you decide to do so, you do so solely on your own initiative and risk. This analysis is not guaranteed to be free of errors. It will not be updated after publication.
Download a free real-time demo of the NanoTrader Full trading platform used in this article