You are here
Gold analysis: a short sell opportunity?
Dark clouds appear to be gathering above the gold price. After the publication of the IFO business climate report this Monday (26/06) the gold price dropped 18 $ in just a few seconds. Traders are now putting a question mark behind the bullish trend, which started at the end of 2016.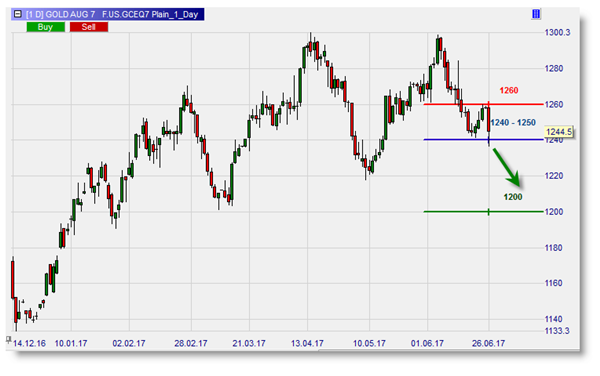 PARAMETERS
Sell short at a limit between 1.240 $ and 1,250 $
Stop loss: 1.260 $
Target: 1.200 $
Disclaimer
This analysis is published solely for educational and informational purposes and must not be read as advice or a suggestion to buy or sell the financial instruments or markets analysed. If you decide to do so, you do so solely on your own initiative and risk. This analysis is not guaranteed to be free of errors. It will not be updated after publication.
Download a free real-time demo of the NanoTrader Full trading platform used in this article