You are here
Index analysis: DAX 30 long?
November 2016. After reaching an all time high of 12.429,5 on 10 April 2015 de DAX entered a long consolidation phase which is still ongoing.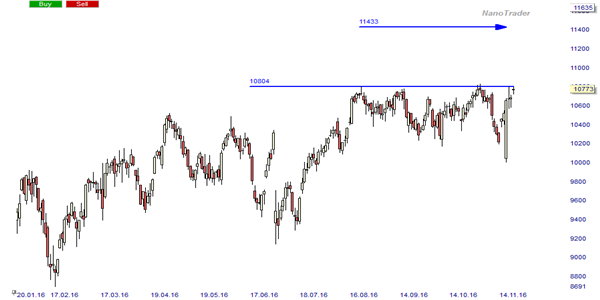 The consolidation period provided excellent opportunities for day traders but was not very lucrative for swing traders and position traders. This may be about to change with the election of Donald Trump. The market has digested its initial surprise and appears positively oriented. It is not impossible that the market will continue its positive trend started in March 2009.
Since 15th August 2016 the DAX index is stuck below the resistance at 10.804. Should the DAX be able to close above this level, this could be considered a buy opportunity in November 2016. The target is 11.433, a level reached on the 30th November 2015.
PARAMETERS
Buy if the DAX closes above 10.804.
Stop-loss: 10.600
Target: 11.433
Disclaimer
This analysis is published solely for educational and informational purposes and must not be read as advice or a suggestion to buy or sell the financial instruments or markets analysed. If you decide to do so, you do so solely on your own initiative and risk. This analysis is not guaranteed to be free of errors. It will not be updated after publication.
Download a free real-time demo of the NanoTrader Full trading platform used in this article