You are here
SMI (Swiss market index) analysis: time to go long?
After reaching an all time high of 9.534 points in August 2015 the Swiss market index (SMI) has lost steam significantly, dropping to 7.334 points on 24 June 2016.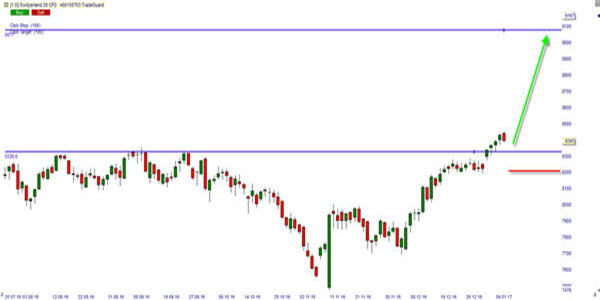 During the whole of 2016 the SMI has oscillated in a price channel between 7.500 and 8.300 points. Since 3 January 2017 the SMI index has broken upwards out of this range. This may constitute a buying opportunity.
PARAMETERS
Buy limit at 8.375.
Stop loss: 8.200
Target: 9.077
Disclaimer
This analysis is published solely for educational and informational purposes and must not be read as advice or a suggestion to buy or sell the financial instruments or markets analysed. If you decide to do so, you do so solely on your own initiative and risk. This analysis is not guaranteed to be free of errors. It will not be updated after publication.
Download a free real-time demo of the NanoTrader Full trading platform used in this article