You are here
Let your profits run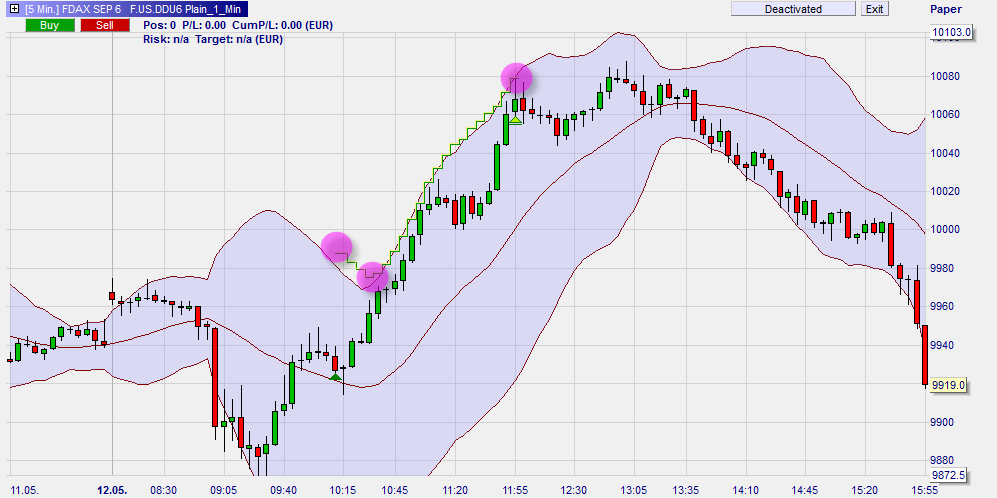 Intelligent trailing targets are a new way of taking profits. Intelligent targets allow traders to respect the classic trader saying: "Let your profits run and cut your losses short".
These are the advantages of the intelligent trailing targets: 
Traders can squeeze more profit out of open positions.
 
They adapt to market conditions instead of being one-rule-fits-all.
 
They are automatically managed by the platform.
 
They help traders battle the human reflex of taking profits too sooner rather than later.
 
No programming is required.
Download a free real-time demo of the NanoTrader Full trading platform
---
1. TRADING PROFITS
Letting profits run is often an afterthought. Some traders manually move their target once or twice without much strategy behind it. But before doing so, the trader must not give on to the human reflex of taking profit sooner rather than later.
Trailing targets place your target order on technical analysis indicators and continually adapt in order to maximize profits. In short:
Target orders are based on technical indicators.
Target orders adapt to market conditions.
Target orders are moved automatically by the NanoTrader.
Target orders maximize profits.
An additonal advantage of trailing target orders is that traders are no longer tempted by their instinct to take profit to soon.
2. A NEW WAY OF PROFIT-TAKING
The intelligent trailing targets in the NanoTrader platform take advantage of indicators in order to optimise the exit strategy for an open position. In an unbroken trend, for example, the profit targets are continuously shifted forward in an attempt to stay in the position as long as possible.
The NanoTrader manages the trader's exit target automatically according to the criteria set by him.
3. TARGETS
The trailing targets can be based on the following technical analysis indicators and tools:
Bollinger bands
Average true range (the ATR is a measure of a market's volatility)
Moving average
Price channels
This example shows an intelligent target for a short sell position based on the Bollinger bands. The initial target is continuously lowered as long as the trend remains intact. This moving of the target order is automatically managed by the NanoTrader.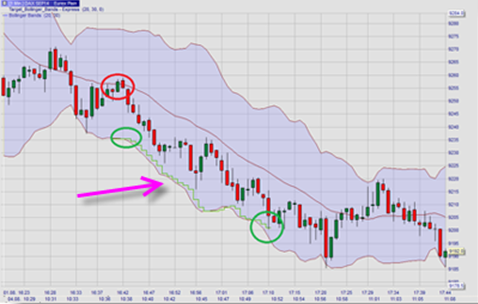 This example shows an intelligent target based on the ATR band.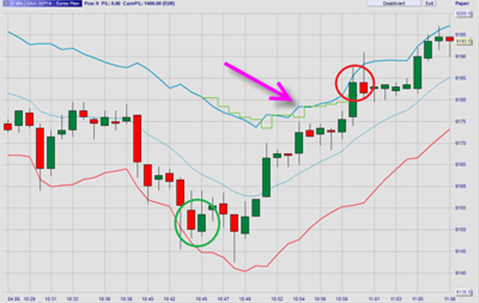 This example shows an intelligent profit target based on the moving average. Traders expecting the market price to return to an average price can place their target on this moving average price. The NanoTrader will keep the profit target order on the moving average as it evolves.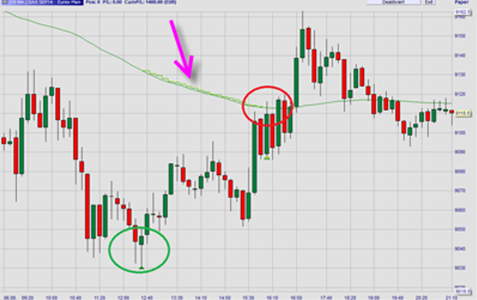 4. BACKTESTING
The trailing targets are taken into account when backtesting!
---
Professional trader and author Carsten Umland likes the NanoTrader trading platform: