You are here
(Not so) famous traders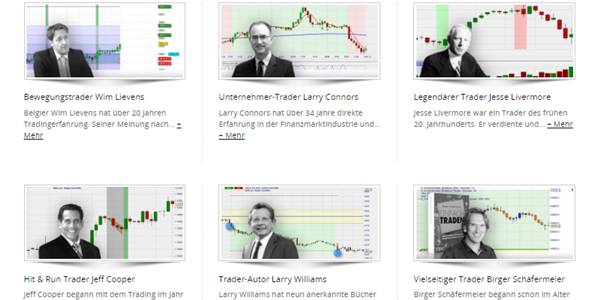 The experiences of other traders, be they famous or not, are always of interest to both novice and advanced traders. The NanoTrader contains an abundance of tools, chart patterns, signals and trading strategies used by (not so) famous traders. All are clearly explained and ready-to-use. You can even modify them, if you want.
These are the advantages of the trader tools:
Access a treasure trove of famous trader tools and strategies.
 
Every tool and strategy is clearly explained.
 
All tools and strategies can be modified.
 
Every client has a permanent free real-time demo for testing purposes.
 
The strategies can be traded (semi-)automatically.
 
The majority of tools and strategies are free.
 
No programming required.
Download a free real-time demo of the NanoTrader Full trading platform
---
The following traders have one or more tools, strategies, signals, SignalRadar tables... in the NanoTrader platform.
1. EUROPEAN TRADERS
Arlt, Wieland
Ceaux-Dutheil, Stefan
Cene, Erdal
Heitkötter, Tobias
Lefort, Eric
Lievens, Wim
Mattijssen, Aloys
Petkov, Kroum
Prats-Desclaux, Bernard
Schäfermeier, Birger
Schriek, Raimund Dr.
Schwendemann, Manfred
Soodt, Peter
Stagge, André
Umland, Carsten
Voigt, Michael
Wolfram, René
2. AMERICAN TRADERS
Carter, John F.
Connors, Larry
Cooper, Jeff
Elder, Alexander Dr.
Fama, Eugene
Hoffman, Rob
Keltner, Chester
Livermore, Jesse
Raschke, Linda
Williams, Larry
Wright, Charlie F.
---
The opinion of a trader using NanoTrader:
This trading platform is simply genious. You can immediately use it efficiently. The product range is also exceptional. The support is competent, friendly and fast. I could go on for hours listing positive elements. Really, first class. Please, continue in the same vain.
C.B.
Download a free real-time demo of the NanoTrader Full trading platform