You are here
Automated trading: Parabolic Combo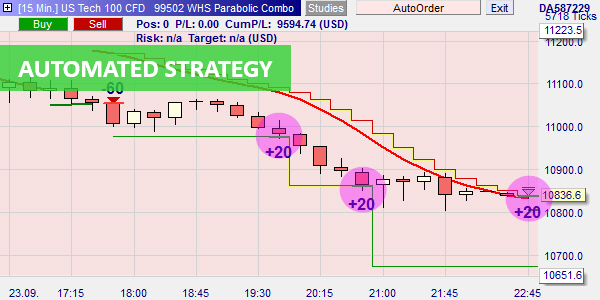 I must admit that I don't have a lot of time to devote to trading during the day. Hence, my interest in automated strategies that allow me to trade without disrupting my schedule. In this article, I present the Parabolic Combo strategy and, in particular, a trade made in automatic mode.
This trade was made on the CFD US Tech 100 contract (equivalent to the Nasdaq 100 index) in a 15-minute candlestick chart. Note that the Parabolic Combo strategy, which is available for free on the NanoTrader platform, contains three main components.
1. THE TREND FILTER
The first component is a trend filter that allows to retain only those signals that are oriented in the direction of the trend. It makes it possible to considerably reduce the number of transactions by keeping only those that are most likely to succeed. The trend is defined by the sentiment resulting from the crossing of two exponential moving averages and the ADX indicator. When these two indicators are trending downwards, the background turns pink and only bearish signals are executed as shown in this example.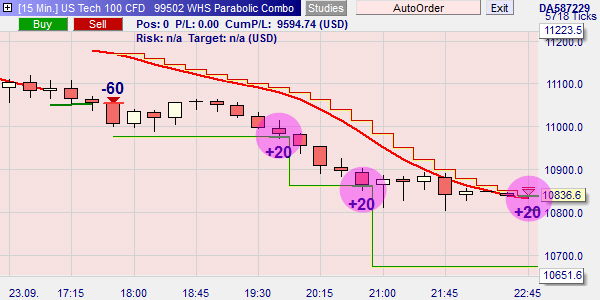 2. THE TRADING SIGNAL
The second component is what we call the signal, i.e. the conditions that make us want to open a position. The signal is defined by the Parabolic SAR indicator, which is represented by a red curve in a downtrend period and a green curve in an uptrend period. In this example, a short position of 60 contracts was opened automatically at 5:45 pm after the market closed below the green Parabolic curve.
3. USE MULTIPLE PROFIT TARGETS
The third component corresponds to the multiple stop/target function which allows the splitting of the 60 contracts position into three positions of 20 contracts each. Each position is framed by a stop and target pair. The three stops follow the red curve of the Parabolic through a stepped path. Thus, our position always remains protected with a risk that decreases as the market goes down. Moreover, the distribution of the target orders, at 2ATR , 5ATR and 10ATR, allows us to capture possible major future movements. In short, we limit our risk, while being able to capture movement. In this example, our stops evolved in parallel with the fall of the Nasdaq and we were able to make three gains due to two hit targets and a stop closure at the end of the movement.
CONCLUSION
The Parabolic Combo strategy is interesting in volatile markets because it puts us in a position in the direction of the trend and protects us while allowing us to capture large movements.
---
The opinion of a professional trader...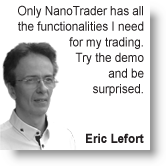 Visit the website of the legendary broker WH SelfInvest
---