You are here
Trader-Author Larry Williams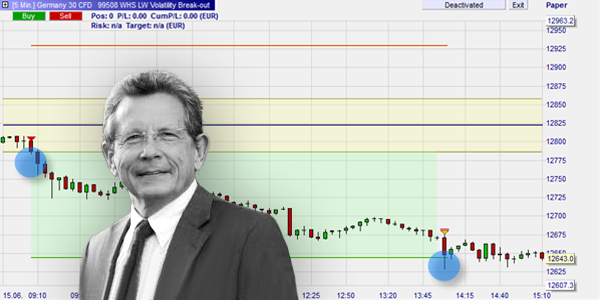 Larry Williams has written nine acclaimed books on futures trading. He has been active in the markets since 1962. During trading events he does not hesitate to trade live using his own futures account.
Related to Larry Williams and available free of charge in the NanoTrader (free demo) trading platform:
1. Trading strategies, signals and tools
L.W. Volatility Break-out
L.W. Proxy Index
The Proxy Index
2. SignalRadar (more...)
The Synchro table
---
Trader Larry Williams
Interview
These are the key points from the interview with Larry Williams (interviewer Marko Gränitz):
Beginners usually act too aggressively. They believe everything they read and hear. Therefore, good education is important. Nevertheless, most traders have to make one or two negative experiences themselves. Continuously learning from mistakes and improving is the key to success.
 
Pure, mathematically exact science does not work on the stock exchange. The markets are strongly influenced by random effects, to which experienced discretionary traders can best react. This kind of trading is like an art that needs a certain input from the artist (i.e. the trader) and has to fit his personality. There is no one "top" strategy.
 
The analysis should start with the big picture. A certain indicator value can have a completely different meaning in a bull market than in a bear market, so you always have to look at it in context. Then you go down to smaller time levels and work with concrete if-then rules for individual setups.
 
Trading commodities is all about understanding the role CoT data. They are the fundamental force. Their motive is to hedge future selling prices for the respective production volumes.
 
There has always been an interaction between equities and bonds, and there will be in the future. If bonds make a strong move in the short term, it will certainly have an impact on equities.
 
The forex market is not transparent. No one can say exactly what the current price is. There are many different prices.
 
The trend is clearly the basis for most profits. You have to understand that an intact trend is a function of time. That is why time is an ally for trend-following traders.
 
In order to achieve high profits, one must take small risks while trying to catch the largest possible movements. In doing so, traders need to have a plan for different exit scenarios as soon as they enter the market. Otherwise, in the event of a loss, it can be difficult to get out again in time, especially with large positions.
 
Fixed stops are emotionally better for discretionary traders. This helps to avoid unnecessary mistakes, which in the end also allows for higher returns. Without fixed stops, self-doubt and constant emotional highs and lows quickly occur with open positions, especially during a drawdown.
 
Profit targets and trailing stops are also useful. Trading is a business of taking profits at a certain point rather than hoping for ever larger book profits. Larry Williams exits with the full position (no partial exits).
---
People also read
The Larry Williams Volatility Break-out strategy
The Larry Williams Proxy Index strategy
Andrews pitchfork, drawing the pitchfork correctly
---
Recommended broker
---
---