You are here
NanoTrader detects chart patterns
The NanoTrader trading platform automatically detects a variety of chart patterns. These chart patterns include the 1-2-3-4 pattern and the Hammer Blast pattern respectively designed by Jeff Cooper and Stefan Salomon.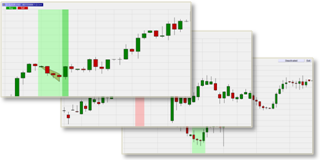 • The chart patterns are ready-to-use.
• The chart patterns are split into categories (candlesticks, famous traders...).
• The chart patterns can be used in screeners, trading signals and strategies.
• An alarm (mail, pop-up, sound) notifies you when a pattern occurs.
Download a free real-time demo of the NanoTrader Full.