You are here
Divergence trading strategies. Part 1: MACD divergence
The concept of divergence often makes its appearance when financial markets are analysed. In simple terms divergence means that the market price evolves in the opposite direction of what appears to be the direct of the market's momentum.  Divergence does not occur that often. Hence, traders, who trade according to technical analysis principles, will look closely at any situation where divergence occurs.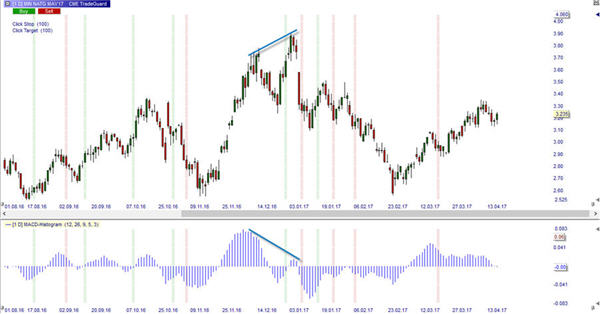 This Natural Gas example above shows a situation where divergence occurs. In order to visualise the market's momentum this trader simply uses the MACD indicator. The blue line in the price chart indicates the market price is up and moving towards $ 4. At the same time the MACD indicator is oriented downwards, indicating that the market's momentum is going down.
REVERSAL STRATEGY
The concept is simple: the market price is going up but there is no longer sufficient momentum to keep on pushing the price up. This is clearly a reversal strategy. However, it does not suffise for divergence to occur in order to have a trading opportunity.  Besides divergence the trend must also be exhausted for a reversal strategy to work.
GAPS CONFIRM WEAKNESS
Take another look at the example above. After a strong move towards the round number of $ 4, the market shows some weakness before a considerable gap down occurs. This also draws attention in the market and Natural Gas dropped to around $ 3,06 before finding support. A change in the market trend occured.
AN INTERESTING COMPLEMENT
Although traders are definitely interested in situations where divergence occurs, they will often use divergence to complement their preferred trading strategy or (candlestick) pattern. As a matter of fact, a divergence strategy can be combined with almost every other trading method in any time frame.
ALSO AN EXIT STRATEGY
Other traders frequently use divergence as an exit signal indicating the time is near to close a position. If a trader in the example above was long Natural Gas when it was near $ 4, the negative momentum would have been a serious indicator to consider closing his position. A change of trend would not have to occur in this case as it is simply the close of an open position.
Download a free real-time demo of the NanoTrader Full trading platform used in this article