You are here
The Traders Dynamic Index indicator (TDI)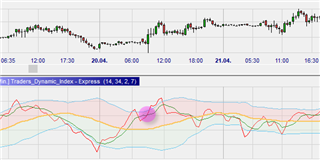 A strong market with a clear direction and significant price gyrations. This is what every trader wants. The Traders Dynamic Index (TDI) indicator has been designed to detect such market conditions. In order to achieve this task, the TDI indicator combines the holy trinity of trading: momentum, trend and volatility.
Install a free demo of the NanoTrader trading platform.
---
USING THE TRADERS DYNAMIC INDEX
It is easy to understand why this indicator is popular. Traders use the TDI indicator in many different ways and combinations. The most straightforward way of using it, is to simply use it as a classic break-out indicator.
This illustration shows a buy signal. The following criteria are met:
The red RSI line crosses above the green RSI signal line.
Both lines are above the yellow average RSI line.
Both lines are still within the blue band.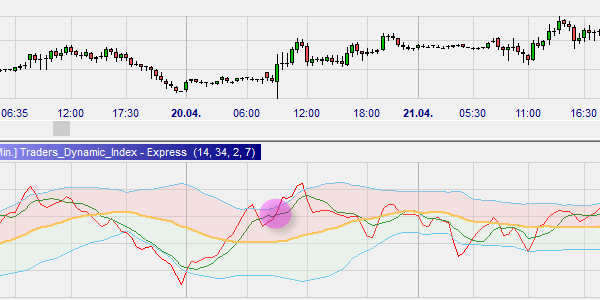 CONCLUSION
This indicator is worth experimenting with. It should be able to dedect the best moments to trade during the day.
---