You are here
Legendary trader Jesse Livermore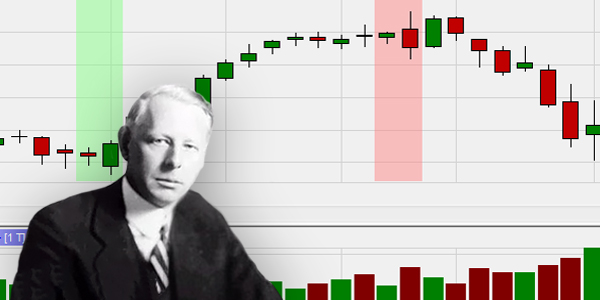 Jesse Livermore earned and lost several fortunes by actively investing in the stock market. Because Livermore studied the market meticulously, recorded his observations in writing and defined them in the form of clear rules, it is still required reading today.
Related to Jesse Livermore and available free of charge in the NanoTrader (free demo) trading platform:
1. Trading strategies and signals
–
2. Trading chart patterns
The one day reversal pattern
3. SignalRadar (more)
–
---
Trader Jesse Livermore
The one day reversal pattern
Jesse Livermore considers the one day reversal pattern he defined a strong signal.
The pattern is used on day charts. A one day reversal long pattern occurs when the low of the candle is lower than the low of the previous candle, but the close of the candle is above the close of the previous candle. A one day reversal short pattern occurs when the high of the candle is higher than the high of the previous candle, but the close of the candle is below the close of the previous candle.
Jesse Livermore often used the volume indicator (note: only available for exchange traded instruments) as confirmation. When a one day reversal pattern occurs, the order volume corresponding to the signal candle must be higher than the previous day's order volume.
This example shows both a short sell signal and a buy signal. Jesse Livermore would have a preference for the short sell signal because the volume corresponding to the signal candle is significantly higher than the previous day's volume.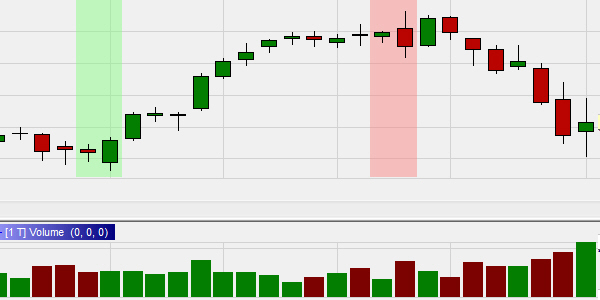 Excellent quotes from Jesse Livermore
Jesse Livermore was a keen and intelligent observer of the markets. He wrote down his observations in notebooks and defined clear rules. Even today, over 100 years later, some of these observations are still relevant. This example shows Livermore's approach for stocks he would sell short.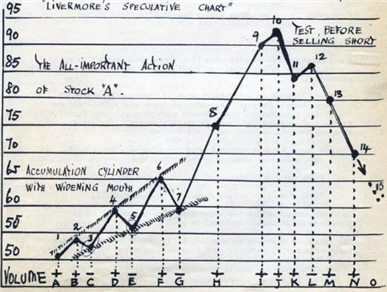 These quotes from Jesse Livermore are still relevant today. In particular the first quote is essential. Far too many traders cannot simply sit and wait until their strategy give a signal. They crave action, they want an open position. They start being creative, invent new ideas, change their rules just so they can open a position. This rarely works. Big profits come from a good system that is applied as is, day in day out. 
"No money is earned by thinking - money is earned by sitting and waiting".
"The game of speculation is the most fascinating game in the world. But it is not a game for the stupid, the mentally lazy, the person of lesser emotional balance or the "get rich fast" adventurer. They will die poor."
"Always sell what shows you a loss and keep what shows you a profit."
---
We recommend this regulated managed account service. Check it out...
---
People also read
The One Day Reversal pattern – Jesse Livermore
Larry Connors, trader & entrepreneur
A daytrading strategy for US stocks
---
If you are looking for a good broker...
---