You are here
Movement trader Wim Lievens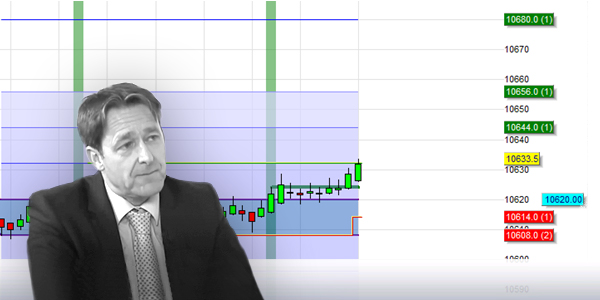 Wim Lievens has more than 20 years of live trading experience. In his opinion successful trading consists of 20% market analysis, 30% money management and 50% discipline.
Improve your trading experience... test a free real-time demo of the NanoTrader trading platform
---
1. ABOUT WIM LIEVENS
"Trading is my main passion ever since I took my first steps as a trader in 1998. I used to combine my trading activities with my international career, and the competencies I developed as manager and CEO in the food industry definitely added to my success in trading. Sharing my experience and know-how with others is what I prefer. Therefore I have turned my passion into my profession by combining my personal trading with educational trading webinars and seminars and live trading events in Paris, Frankfurt, Amsterdam and Gent."
Wim Lievens at home with the NanoTrader trading platform in the background.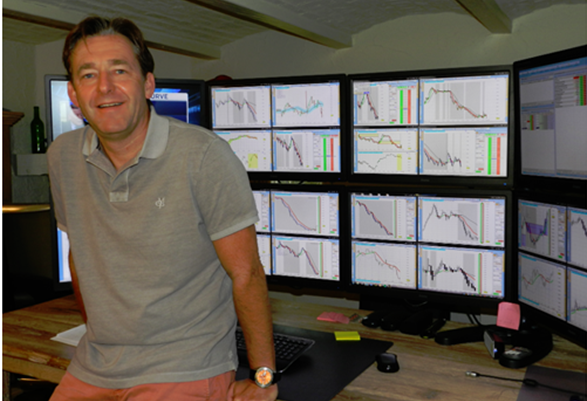 ---
---
2. THERE ARE ONLY TWO RULES
Wim Lievens has two key rules. All his trading strategies follow these two rules.
Rule nr. 1: the trader needs to adapt to the market, the market will never adapt to the trader.
In order to adapt to different market conditions the WL Day Trading System, for example, contains three complete strategies! In addition the system includes the StrategySelector which shows the trader which strategy he needs to use depending on market conditions.

Download a free platform demo.
Rule nr. 2: time is never relevant, only movement is relevant.
"You can only make money trading movement, not time" states Wim Lievens. The charts in the WL Day Trading System are Heikin Ashi candles based on range bars. These candles are therefore only based on movement. The charts focus solely on movement and filter out time and most of the noise. Time is not relevant. Heikin Ashi candles based on range bars give better reversal signals than range bars themselves. It is also possible to implement the three strategies using Renko bars.
---
Wim Lievens comments on the NanoTrader trading platform: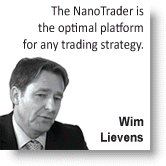 Discover a trading platform made by traders for traders... test the free NanoTrader demo.