You are here
An order and a lay-out in 4 clicks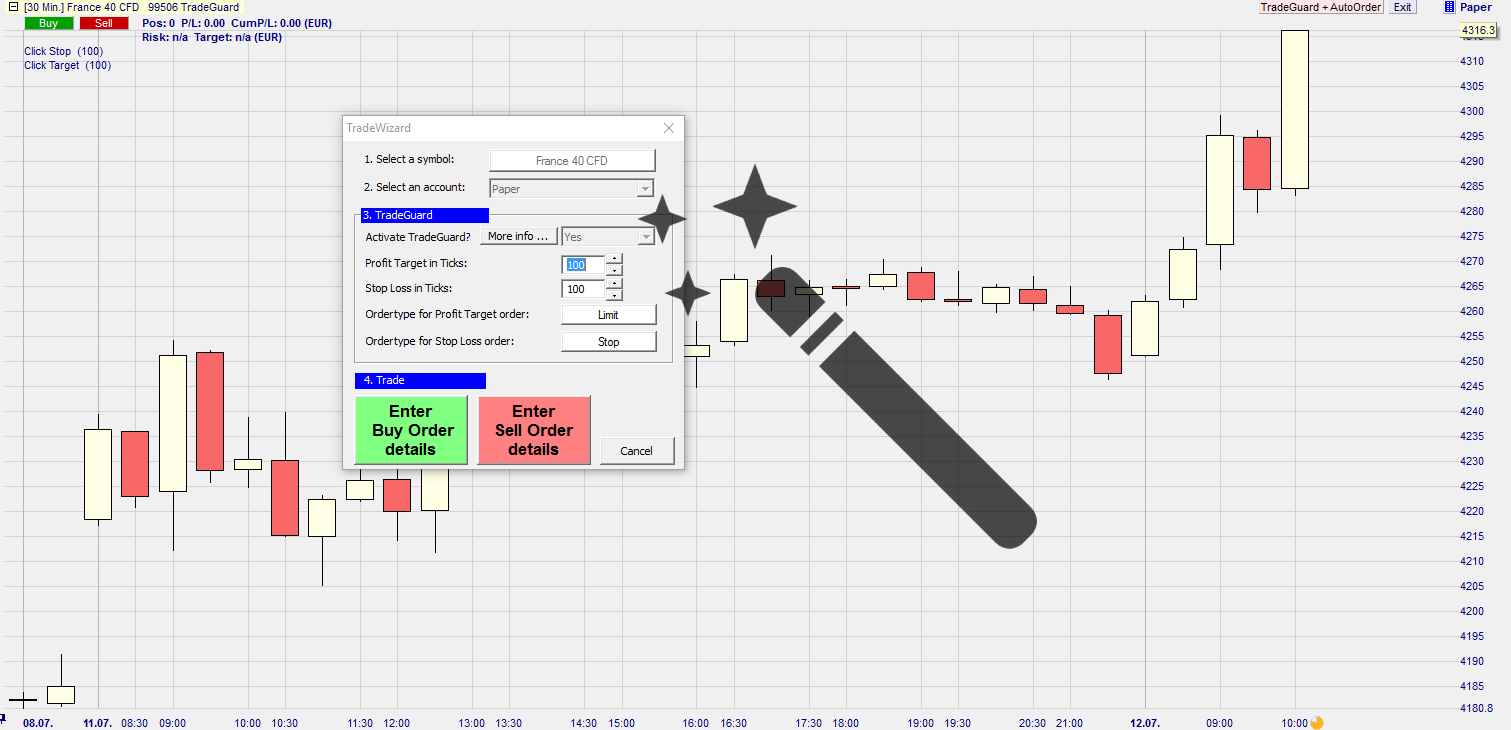 The TradeWizard is by far the quickest and easiest way to place an order and at the same time build a trading lay-out. In addition the trader can use the wizard to instruct the NanoTrader to automatically place bracket orders to protect his new open position.
The TradeWizard is a button in the main tool bar.

Step 1: SELECT THE INSTRUMENT
It is possible to trade futures, forex, CFD, stocks and structured products via the NanoTrader platform. In this example the trader is in the first step of the process as indicated by the blue highlight in the TradeWizard.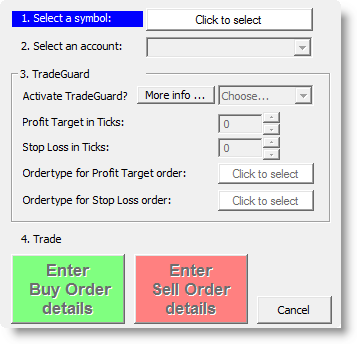 Step 2: SELECT THE ACCOUNT
Each trader has his live account and permanent demo account (papertrade). When selecting the account the NanoTrader automatically opens the account bar and integrates it in the trading lay-out.
Step 3: SELECT IF YOU WANT BRACKET ORDERS OR NOT
Bracket orders consist of a stop loss order to protect the open position and a target order to take profit. The bracket orders are managed by a unique function in the NanoTarder called the TradeGuard. If the trader chooses to use bracket orders by selecting 'yes', the NanoTrader will add the chart of the instrument to the lay-out and activate the TradeGuard.
Step 4: SELECT BUY OR SELL
In this final step the trader decides if he places a buy order or a sell order.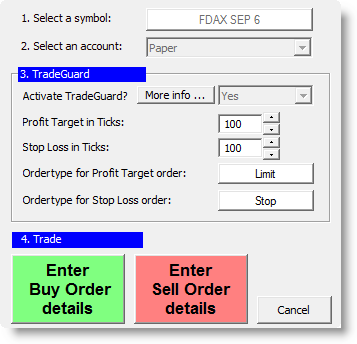 Once the trader clicks buy or sell he will receive a confirmation window. It is possible to deactivate this confirmation window and send the order immediately.
THE TRADEWIZARD ALSO CREATES A PLATFORM LAY-OUT
Besides placing the order to open the position and the bracket orders to protect the position, the TradeWizard also creates a platform lay-out. This trader starts with a blank screen...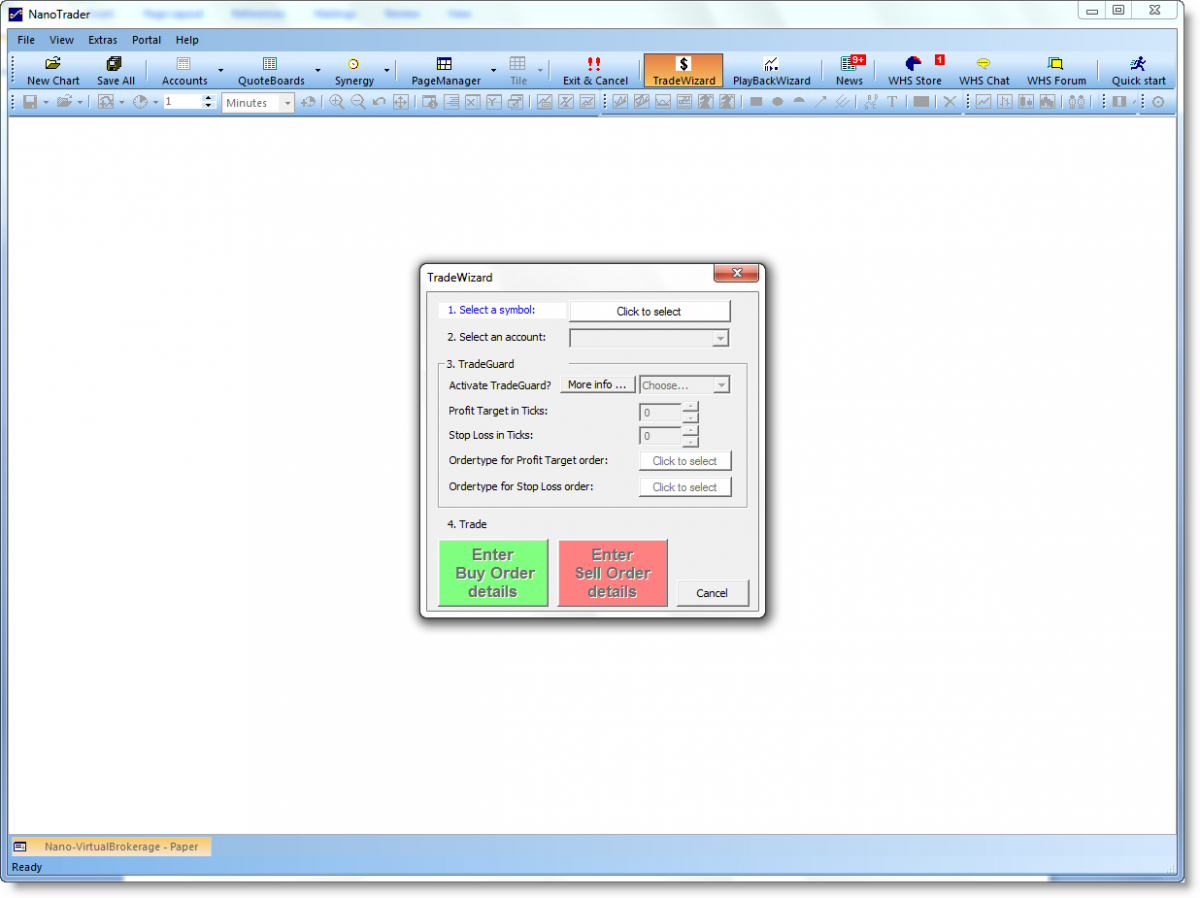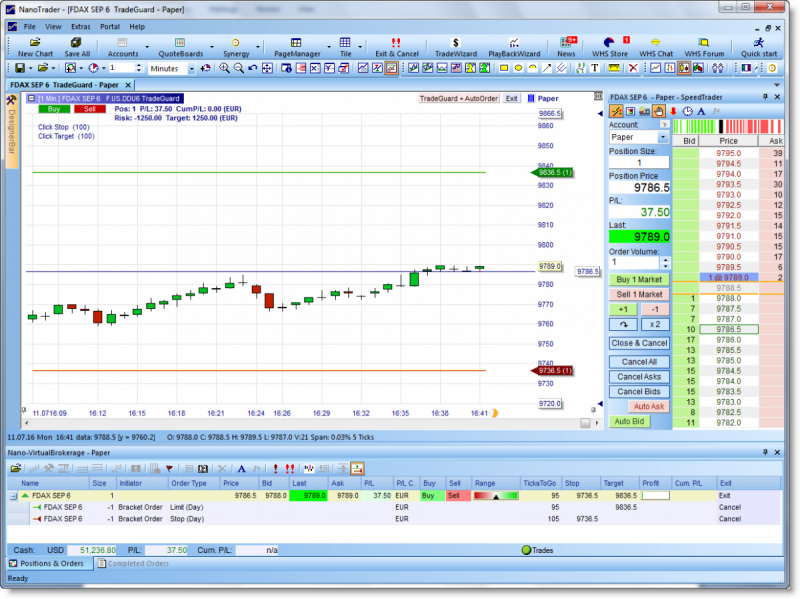 ...and ends, only four clicks later, with his position protected by bracket orders in a cool trading lay-out. The bracket orders can be moved to another price level by clicking the triangles in front of the order label and dragging the orders.
TRADING VIDEOS
This video shows the NanoTrader's TradeWizard:
---
Professional trader and author Wieland Arlt likes the NanoTrader trading platform: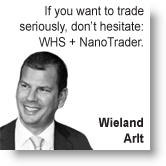 Discover a new world... test the NanoTrader trading platform.