You are here
Overview NanoTrader novelties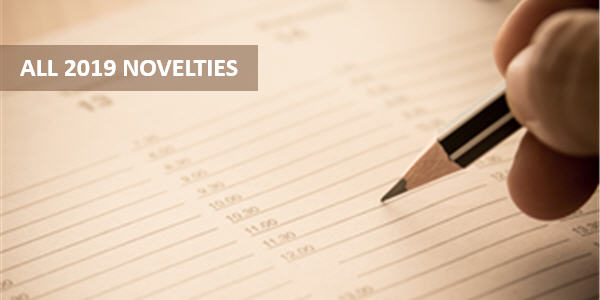 Providing traders with the latest trading tools and strategies is one of the NanoTrader's main strengths. 2019 was again a year full of innovation. Below a list of all the major innovations, which were added to the NanoTrader trading platform in the past year.
---
Renowed trader Carsten Umland likes NanoTrader: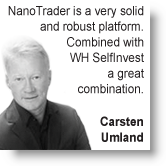 ---
FIFTEEN NEW TRADING STRATEGIES
S&P 500 Break-out and Pound Shorter by René Wolfram – free
WL Vola Open for US stocks by Wim Lievens – store
Dax & Dow Range Bar Scalping – free
Traders' Magazine three strategies pack – free
Nasdaq Long Only – free
Z-Candle Plus – store
The Black Candles – free
The Red-White-Red pattern – free
Morning Break Out by André Stagge – store
The SignalRadar, real live trading signals – free

EIGHT NEW CLIENT PROPOSALS
Mogalef trend filter by Eric Lefort – store
TDI indicator – free
Percentage change tool – free
Profit-lock stop order – store
Fractal channel – free
KDJ indicator – free
Customization settings – free
BB MACD indicator – free
FIVE IMPORTANT NOVELTIES
Make your personalized trading newsletter – free
Volume Viewer – free
Orders based on time
New mobile trading platform – free
Commodity CFDs with no expiry date
FIRST PLACE IN SIX MAJOR BROKER COMPARISONS
Deutsches Kundeninstitut – 5 out of 5 stars in every category
Brokerwahl – Nr. 1 futures broker & Nr. 2 CFD-Forex broker
Technical analysis fair – Best futures broker in France
Investment Trends – First in 14 of the 16 key services area
€uro am Sonntag – Best broker. Best order execution
Fuchs Briefe – Consistently the best broker.
---
Renowed trader André Stagge likes NanoTrader: